COLOMBO (News 1st); The second edition of the Army Commander's League T20 Cricket Tournament will kick off from 31st July to 8th August at the Army Cricket Ground of international standards at Dombagoda, adhering to strict health guidelines.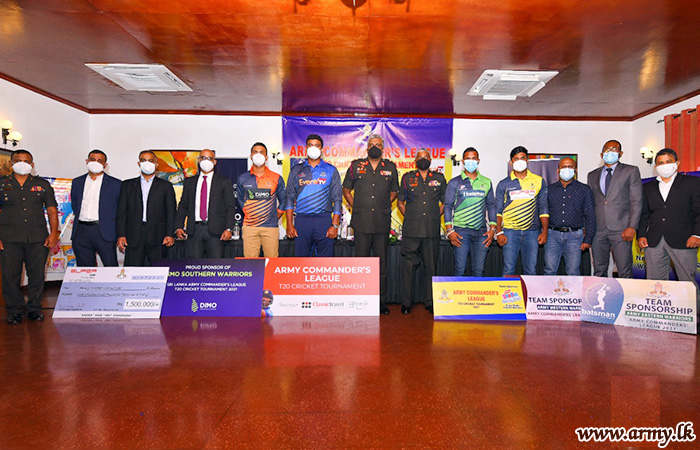 Major General Sanjaya Wanasinghe, Chairman, Army Cricket Committee and Adjutant General of the Army and Major General Shiran Abeysekera, vice chairman of the cricket committee, DG Rehabilitation headed a media conference on the matter on Thurday (29).
General Shavendra Silva, Chief of Defence Staff and Commander of the Army was instrumental in adding a new turf ground for cricket at Saliyapura Gajaba Regimental Headquarters which will enable the conduct of any ongoing tournament in the event of any adverse weather in other parts of the country.
The tournament with four teams, led by Army-produced national players has invited 12 national players to represent those teams, 3 each in 4 teams.
"The tournament will attract more potential players and enhance their level of experience in competitive cricket. It will boost the morale of cricket-loving players in the Army after an absence of several months," Major General Wanasinghe said.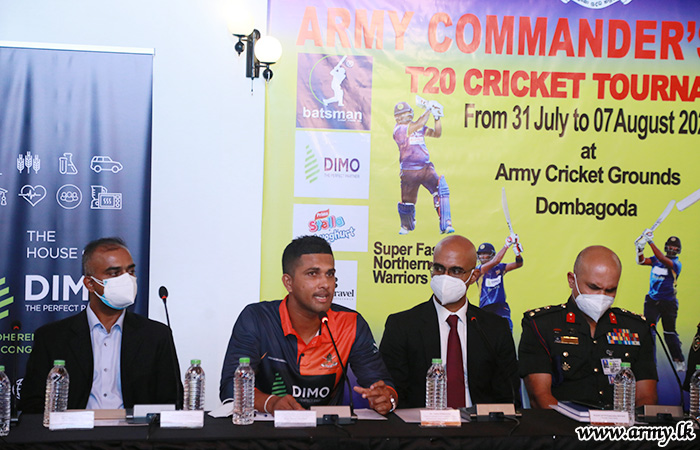 Accordingly,
Army Northern Warriors' team, captained by the Army's national player Sekkuge Prasanna with Milinda Siriwardena, Ashan Priyanjana and Ramesh Mendis,
Army Eastern Warriors' team, captained by the Army's national player Asela Gunaratne with Sandun Weerakkody, Chathuranga De Silva and Lahiru Madusanka,
Army Southern Warriors' team, captained by the Army's national player Dinesh Chandimal with Dammika Prasad, Suranga Lakmal and Angelo Perera
Army Western Warriors' team, captained by the Army's national player Thisara Perera with Upul Tharanga, Nuwan Pradeep and Dilshan Munaweera will compete in the tournament.
Each team on the T20 format under ICC rules is expected to play two matches with three teams.
Similarly, 2 National players can play in each team less Army National players, comprised of two under 23 players from the Army in each team, Major General Sanjaya Wanasinghe added explaining about the format of the entire tournament.
Cricket in the Army began in earnest in the year 1951 and Army teams successively took part in different tournaments, conducted by the then Ceylon Cricket Board and won the first 'Daily News' championship in 1963.
To its credit, the Army since then has produced a fine assortment of legendary cricketers, including Brigadier (Dr) H.I.K Fernando and also post-conflict period players, like Captain Ajantha Mendis, Warrant Officer I Sekkuge Prasanna, Warrant Officer II Asela Gunaratne and more recently of former Sri Lankan national players, like Dinesh Chandimal, Thisara Perera, P.H.T Kaushal who have now been inducted to the Army in order to boost the field of cricket in the Army.
Similarly, in the year 2004, the Army team won the 'Sara Trophy Championship', played in the Premier Tier B and became its championship in 2009 and was subsequently placed in the Premier Tier A from 2011/2012 onwards as the Super Eight Team and the First Class cricket team.
They also became Inter Club T20 Champions and under 23 champions in the year 2016 and 2017 respectively and women's championships as well. At present 5 men and 7 woman players are representing the national team.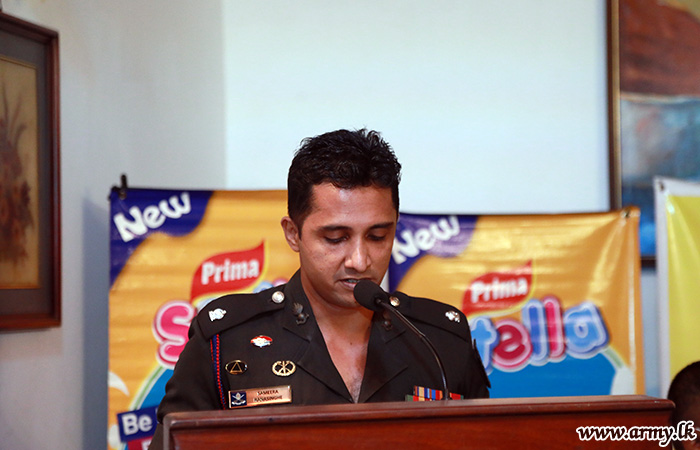 Latest News